Samuel Aguirre
Director of WIDA Español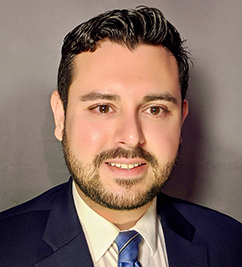 Como director de WIDA Español, Sam Aguirre establece vínculos entre el desarrollo del lenguaje español y el desarrollo del lenguaje inglés para apoyar la educación bilingüe en los Estados Unidos y el extranjero. Sam gestiona el estudio, la investigación, el desarrollo y la distribución de recursos de WIDA que se enfocan en la enseñanza del español. Su trabajo cubre proyectos clave, incluyendo el Marco ALE (un marco de referencia de las artes del lenguaje del español), el Marco DALE (los estándares del desarrollo del lenguaje español), capacitación profesional y pruebas del español. Sus experiencias como estudiante bilingüe en los EE.UU., trabajo como maestro, defensor de comunidades con diversidad lingüística y cultural y director de servicios multilingües en una agencia de educación estatal, le proveen a Sam una fuerte fundación para su trabajo en WIDA.
Sam tiene un bachillerato en Educación primaria con un enfoque bilingüe y bicultural de la Universidad Northeastern Illinois y una maestría en Estudios de segundo idioma con una concentración en política y practica del lenguaje de la Universidad de Hawai'i en Manoa. Actualmente, Sam esta cursando un doctorado en Curriculo e instruction con un enfoque en la educación bilingüe en la Universidad de Wisconsin-Madison.
As Director of WIDA Español, Sam Aguirre bridges Spanish language development with English language development to support bilingual education students in the United States and abroad. Sam manages the research, development, and delivery of WIDA resources focused on Spanish language instruction. His work oversees major areas, including those of Marco ALE (a framework for Spanish language arts), Marco DALE (a standards framework for Spanish language development), professional learning opportunities, and Spanish language assessments. His life experiences as a bilingual in the U.S., work as an educator in the classroom, advocate working with culturally and linguistically diverse communities, and director of multilingual services at a state education agency provide a strong foundation for his role at WIDA.
Sam holds a bachelor's degree in Bilingual Bicultural Elementary Education from Northeastern Illinois University and a masters in Second Language Studies with a concentration in Engaged Language Policy and Practice from the University of Hawai'i at Manoa. Sam is currently completing a doctoral degree in Curriculum and Instruction with a concentration in Bilingual Education at the University of Wisconsin-Madison.
Contact Information
saaguirre@wisc.edu
Phone: (608) 262-1493
Office: 1161F Ed Sciences
Current Projects
WIDA