Leslie Grimm
Associate Director of Professional Learning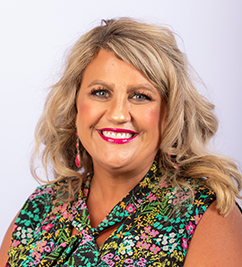 Leslie Grimm is the Associate Director of Professional Learning at WIDA. She leads the vision, development and implementation of the PL Design process for new product and service development. She works closely with Professional Learning Specialists to design and develop trusted professional learning experiences that bring our WIDA English language development standards and assessments to life in early childhood and K-12 contexts, domestically and internationally.
Prior to joining WIDA in 2011, Leslie taught English language learners in multiple capacities for 12 years, holding positions as a Bilingual Kindergarten teacher, a Bilingual Resource teacher (K-5), a Kindergarten teacher and an ESL coach in Madison, Wis. Upon leaving the classroom, Leslie provided school- and district-based professional development and support to educators and administrators on how to best instruct language learners and to share the responsibility of differentiating instruction and assessment to support the academic and linguistic achievement of ELL students. Additionally, she was an adjunct instructor at Edgewood College in the TESOL program. When she is not working, she loves being a mom to her son, Finley, traveling, cooking with her husband, and spending quality time with her friends and family.
Leslie has a Master's of Science in Educational Leadership and Director of Curriculum and Instruction from Cardinal Stritch University as well as a Bachelor of Science in Elementary Education.
Contact Information
leslie.grimm@wisc.edu
Phone: (608) 890-4522
Office: Ed Sciences
Current Projects
WIDA