Vitaliy Shyyan
WIDA Assessment Researcher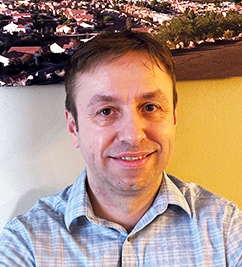 Vitaliy Shyyan, Ph.D., is a WIDA Assessment Researcher. In this role, Vitaliy helps lead efforts related to test development and the design and implementation of research related to multilingual and native language development and to revitalizing and sustaining indigenous languages. He serves as a subject matter expert on topics related American Indian, Alaska Native, and Hawaiian learners and cultures, and he contributes to accessibility and inclusion efforts at WIDA.
Prior to his work at WIDA, Vitaliy worked as the Senior Director of Accessibility and Inclusion at Smarter Balanced, University of California, Santa Cruz, a Research Associate at the National Center on Educational Outcomes, University of Minnesota, and the Assistant Director for Communications at the Canadian Institute of Ukrainian Studies, University of Alberta. His research interests include linguocultural and content assessment strategies as well as accessibility, diversity, equity, and inclusion supports for diverse students and those who serve them.
Vitaliy holds a Ph.D. in educational policy and administration with a major in comparative and international development education and a minor in program evaluation, and an M.A. in educational policy and administration – both degrees from the University of Minnesota, U.S.A. He also holds M.A. in English language and literature from Precarpathian University, Ukraine. In his spare time, Vitaliy enjoys traveling and weightlifting.
Contact Information
vshyyan@wisc.edu
Phone: (612) 756-0737

Current Projects
WIDA