Edward Hubbard
Principal Investigator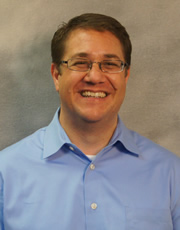 Edward M. Hubbard is an assistant professor in the Department of Educational Psychology at the University of Wisconsin-Madison.
His research focuses on questions at the intersection of education and neuroscience, in the emerging field of Educational Neuroscience. His research examines the neural underpinnings of cognitive processes that are relevant for education, and the role of educational experiences and enculturation as primary drivers of brain plasticity to create the neural circuits that underlie human specific abilities. His research combines the latest technological advances in understanding the human brain as a "learning organ" with insights from cognitive psychology and education to help build the emerging field of educational neuroscience.
The lab focuses on three main areas:
1) the acquisition of mathematics in typical and atypically developing populations
2) the role of multi-sensory integration in learning; and
3) the role of learning in synesthesia, and the consequences of synesthesia for education.
Contact Information
emhubbard@wisc.edu
Phone: (608) 265-2607
Office: 1075F Ed Sciences
Completed Projects
Using Nonsymbolic Ratios to Promote Fraction Knowledge: A Neurocognitive Approach